ONLY CONNECT
Greg Melville is Pomfret's first eight-figure donor, providing over $10 million in giving and commitments to support our Amplify campaign.
From a young age, Greg Melville '68 was taught the importance of giving back to the community. His grandparents donated the land for the development of Stony Brook University. His parents were active in politics and hosted an international student from New Zealand. Following their example, Melville has made significant contributions to Pomfret and other educational institutions — and now serves as the chair of Amplify: The Campaign for Pomfret School.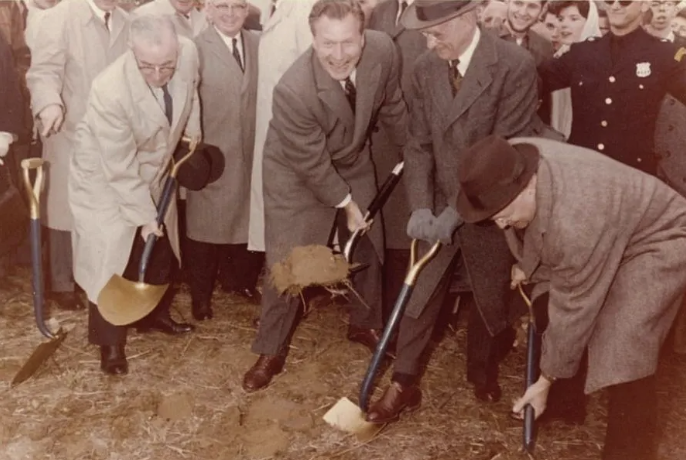 Where does your philanthropic spirit come from?
I learned it first from my grandparents. They donated the land to build the State University of New York at Stony Brook. I remember visiting once and finding a picture of them breaking ground for the University with Governor Nelson Rockefeller and other dignitaries. It certainly made an impression on me. They were involved in several initiatives out on Long Island. They all afforded me an understanding at a young age that, if you had the resources, it was important to help others with your money.
My parents also inspired me when they created the Melville Charitable Trust — which focused on ending homelessness in Connecticut. Watching closely from the sidelines, I was aware of what it meant to both of my parents. I credit them for serving as examples of what it means to be a philanthropist. The Melvilles not only believe in using one's financial capacity to benefit individuals and institutions but also in taking the initiative to make change.
When did you start giving back?
My parents were very involved in politics, both before and at the height of the civil rights movement. I grew up witnessing the work of Reverend Dr. Mr. Luther King, Jr. and the opposition to it in both the North and the South — and, of course, later seeing first-hand the turmoil in society over the Vietnam War. I spent one summer teaching children from a neighboring, low-income community to swim. I suppose that's when I first put my toe in the water, so to speak, of making a small contribution. But, it was at Pomfret that I got involved in tutoring children on spring afternoons at the Church of the Good Shepherd in Hartford, and then later went to live at a parish and work at a community center in Camden, New Jersey, in the spring of 1968.
Tell us about that.
In my senior year, our chaplain taught an urban studies class in the fall. He then arranged for a half-dozen of us to work in Episcopal parishes in poor inner cities along the East Coast. For a month, I worked in Camden, New Jersey, and for the first time, I glimpsed the faces of those who lived in unhealthy housing and profound poverty. During the first week, I took part in a march to City Hall organized by local community leaders. At the end of my time there, I traveled down to Washington, DC. I stayed overnight in Tent City with poor citizens – many of whom had traveled there from inner cities and the South. The following day, I walked about in a sea of mud and felt for a short time what it was to be part of a community of persons protesting for a better life.
Is there something you learned while at Pomfret that sticks with you?
In English class, we read E.M. Forster's Howards End. In the epilogue, I read what has come to me to be the two most powerful words in the English language: "Only connect." I left the Hilltop believing that what made Pomfret special was the diverse group of individuals — with a variety of interests and talents — connected for a common purpose.
What other memories stand out from your time at Pomfret?
My roommate for my first two years was Gary Seacrest '68. He was a "Cornhusker," as they're known, from Lincoln, Nebraska. It was a real eye-opener to live with someone from the Midwest. In my senior year, my parents hosted — and I roomed with — an American Field Service (AFS) student, Vicente Vento Torres '68, from Valencia, Spain. It was a year full of learning and understanding new cultures. Vento Torres, his parents, grandparents, and his siblings had lived in Franco's (Fascist) Spain, and he'd never heard students or adults openly express political opinions. He became a good friend and returned to Pomfret for our 50th Reunion in 2018. My family and I keep in touch with him and his children.
Did you have other cultural experiences while growing up?
When my brothers and I were in elementary school, my parents hosted a high school student, Jill Hooper, from New Zealand. She lived with us and attended the public high school in New Canaan. Now, she lives in Nova Scotia, Canada, and continues to be a part of our family. My parents set a great example of us opening our home to students from other countries. It is a wonderful opportunity to learn about different cultures.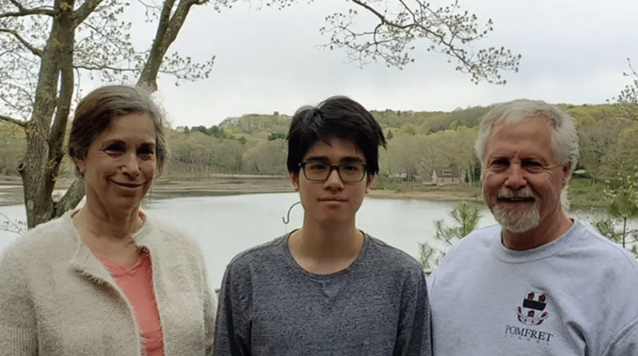 Have you been able to open your home in a similar way?
Yes, we did. After a winter Trustees Board meeting in 2020, with the threat of Covid-19 looming, I told Head of School Tim Richards that my wife, Susan Fox, and I would be happy to help the School in any way we could. When the School announced it would close and transition to distance learning in the spring of 2020, the students left to go home for spring vacation and the spring.  However, one student, Minh "Michael" Le '20, was about to board his plane home to Hanoi when Vietnam closed its borders, and Michael could not get home. Richards asked if Michael could stay with us, and we were happy to be able to host him.
After he arrived, we learned that his sisters — Linda (Linh), a student at Miss Hall's School, and Anna (Anh), an undergrad at Clark University — also had need of long-term arrangements. So, they came to live with us, too. The five of us spent long dinners talking about life, politics, Vietnam, and their family — it was a wonderful time. We hope we made their time during the pandemic a little easier. And Susan and I benefited from learning what a real Vietnamese meal tastes like.
What causes are you passionate about?
Susan and I are fully invested in education across the age spectrum. In New Haven, we are very involved in supporting high-quality, early-childhood education and work with Friends Center for Children, Inc. — which serves children from three months to five years old. It is very powerful what resources at that age can do to help provide a profound and lasting start for a young child. At Pomfret, the areas I am most interested in have been growing scholarship aid for students, improving faculty compensation, and providing more opportunities for faculty professional development.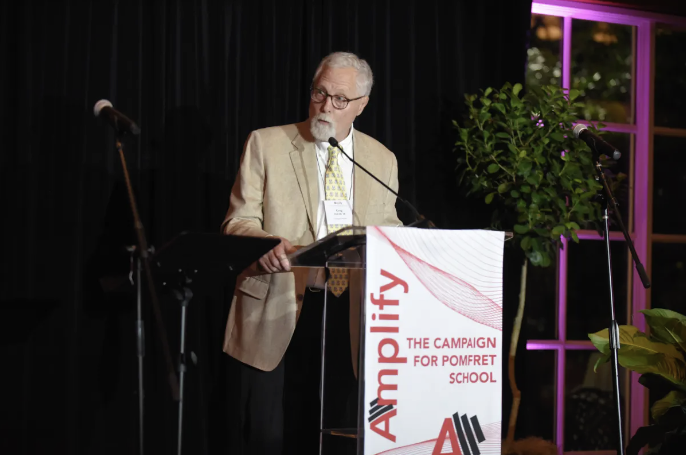 Your passion for education makes you the perfect fit to serve as the chair of the Amplify campaign. 
I was asked to be involved in the Campaign and was happy to do so despite not having a background in business per se. I have frequently been on the other side, being asked, and have thus come to support several non-profit organizations. I know it is essential to have people willing to step up and represent the School and make the "ask "of persons who want to be and can be helpful. And I was provided the help of a wonderfully-talented group of alums, parents, and supporters on the Committee. I couldn't pass on the opportunity!
I'm proud to represent Pomfret and very pleased with the directions Tim and Anne Richards have taken — and continue to take — the School. It is important work, and I'm very thankful to be able to help bring change and improvements to Pomfret.